Look! It exists!
At long last, an author copy of Genius Loci arrived in my mailbox yesterday. Hooray!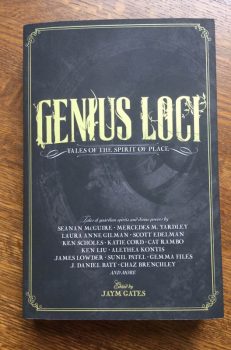 I'm thrilled to be appearing in a ToC with so many great writers.
Speaking of ToCs, I have sold a second story to Fireside Fiction. Unlike the last one, this one is completely fictional. It also contains one of my favorite images to date, but you'll just have to wait to find out what that is. I will let you know when it will be available when I know.
I have my schedule for Confluence, in Pittsburgh on July 29-31. Saladin Ahmed is Guest of Honor, and I expect it to be a great deal of fun. I'll be a busy human, with four panels and a Kaffeeklatsch. I'm doing the latter with Chet Gottfried again, because we had fun last year. I expect there will once again be plenty of cookies.
Saturday, July 30
12pm Medicine in Fantasy
1pm Kaffeeklatsch: Favorite fictional catastrophes
4pm Fantasy Costuming
6pm Arabian Fantasy
7pm Mapping the Fantastic
Whew! If you see me, say hi and provide caffeine and snacks, since I won't have time for meals. Or just say hi: treats not actually required or expected.
#SFWApro