music
I couldn't decide, so two selections today.
First, the Apollo 8 astronauts from Christmas 1968.
And a lovely Thea Gilmore song.
(And this is wonderful!)
I hope those of you who celebrate Christmas have a lovely day, with the food you love and the people you love. I wish the same for those of you who do not celebrate Christmas: why should love be restricted to one day and one religion?
XKCD wins again.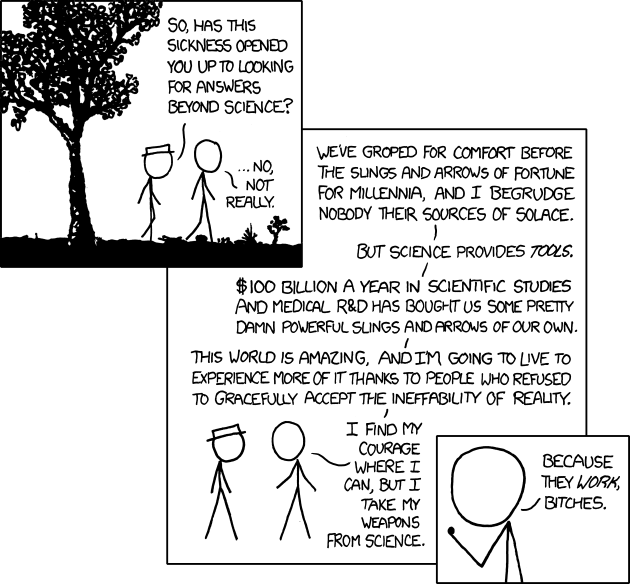 I like to play with data graphics and presentation, looking for ways to present complex information understandably. This video from BBC4's "Joy of Stats" program (and how cool is that?) does something interesting with a pile of national health and economic data. I wish I had that capability.
This makes me very happy: Eight-year-olds do original research and get it published in a major journal. Most science classes get it wrong (and I can say that having both taken and taught them) and don't convey anything of what doing science is like.
And finally, today's science-themed Christmas song.
(Today's other musical selection.)
It was completely cloudy when I tried to examine the eclipse, but is now a lovely clear and sunny morning.
But don't be lulled.
(via Walter Jon Williams – I'd forgotten about this perfect seasonal carol.)
[Click here for the nice one.]
What's more in tune with the Christmas holiday than science fiction/fantasy? Flying reindeer, time travel, mysterious strangers hidden at the north pole?
Lightspeed Magazine is having a big bundle sale, with very good deals on back issues, and on the e-books they put out. Lots of good short fiction and anthologies.
If you're interested in the writing of SFF, the How to Write Magical Words collection is available for pre-order. A group of writers started a blog about the business and craft of writing. There's been a lot of very good material presented there, and the best of it has been collected into a book. Read the blog, buy the book.
I haven't listened to it yet, but Jaym Gates and Erika Holt, editors of Rigor Amortis are interviewed on Get Published.
Edit: Completely forgot to include this, but you all know there's a total lunar eclipse tonight in conjunction with the solstice, right? Visible across North America. It's disappointingly cloudy here, but maybe it will clear up by the wee hours.
Some of my friends have been complaining about the overabundance of bad holiday music. I love Christmas music, but only for a week or two a year. Starting at Halloween is just too much, and by the actual Christmas holiday I'm incredibly sick of the old standards. But there's plenty of good less-common holiday music out there, and I'm going to feature some of my favorites both here and at String Notes for the week leading up to Christmas.
Here's a seasonal favorite to get you in the right frame of mind.
My latest post for Science in My Fiction, on the naming of organisms, went up on Friday. I wouldn't mind at all if you read it and left a comment. Or two.
As I slowly dig out of my current pile of stuff, let me entertain you with this video that's been making the rounds. This is highly entertaining, but decidedly not appropriate for the office.