This SMBC nearly illustrates a story of mine.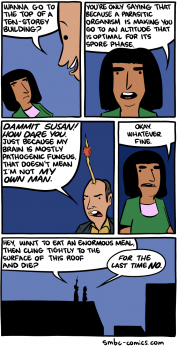 If you haven't read Two Kilograms (my least-favorite title but most popular story), it's available here, or as a podcast, or in Polish.
Sorry I don't have much else in the way of news, unless you want to hear the gory details of rectangular and non-rectangular hyperbolas with temperature correct. And trust me, you don't.
My life right now is clearly illustrated by my intent to leave early today to take full advantage of the long weekend. Instead, it's 7:21 and I'm still at work, waiting on the last bit of computer code to finish running so I can look at my hyperbolas.