Fun stuff
Some of my friends have a Friday night cocktail tradition, where you mix up something tasty and share the recipe. I'm not so good at the mixology, so I rely on my wonderful local bartender at Fuji & Jade. I didn't even drink this on Friday, but instead on Saturday, with some friends who are moving to town.
This lovely lavender concoction is a GMLTV. That's "Give My Love to Violet." The menu description:
The name harkens back to the days of the telegraph, when commonly accepted shorthand would be used to transmit messages more efficiently. As for the drink, essentially it's a Ciroc vodka gimlet (vodka, fresh lime + sugar) tweaked by swapping out the sugar for Creme de Violette (violet blossom liqueur) and a spritz of rosewater.
Floral, citrusy, not too sweet. It was a lovely springish pre-dinner cocktail, though not really suited to go with food.
I think Chris Hadfield is fabulous, and this is just nifty.
I like cooking. This… may not be safe for work, especially without headphones.
I like cooking so much I need to watch this again.
I'll be in my bunk.
(via Chaz Brenchley)
Getting the to-do list done would be a great start. But instead I'm reading Wondermark. You should too, if only so we can all be behind together!
It's 1779 miles from Hobbiton to Mount Doom.
I and some friends started keeping track on 24 July. It's 458 miles to Rivendell: I got there in late October. It's 920 miles from Rivendell to Lothlorien, and I got there mid-January. I'm now 1160 miles into the hike, and have a couple hundred miles to go before I get to Rauros.
Just over 600 miles to Mordor, something like four months. I'm a whole lot slower than the hobbits, although the pace has picked up considerably since the boxer arrived at the end of September.
It's not that I don't have things to blog about, both here and at String Notes. I have photos, links, anecdotes waiting patiently for their turn. But somehow these things are not making it into WordPress and thence to you.
I blame the boxer.
At least in part, that's not untrue. I walked 57 miles last week, 22 miles more than my pre-boxer average, and that time has got to come from somewhere. But it's not entirely true, since I often blog on my lunch break and the boxer has nothing whatsoever to do with that. I blame the boxer anyway.
Whatever the cause, this is important enough to me to get me out onto the internets: for those who don't subscribe to Daily Science Fiction (you should!), my story "The Cries of the Dead and Dying" is now online.
Some of the nifty things accumulating:
Plotto: This summary of all the plots ever (there are 1,462) is rather nifty. I might have to get a copy. Also, I so want a plot robot.
The rest of these are from a single day last week (Tuesday, that would be). I had fully intended to post them that day, but, um, boxer! Yeah, that's it!
There's still time to get in on the Aicardi Syndrome Foundation fundraiser. You need to check this out: Jim Hines is raising money for charity AND lampooning horrible book covers simultaneously. Win-win! The more money collected, the crazier it gets.
London Bridge opens for 50-foot rubber duck. Need I say more?
That's it. I'm giving up gingerbread construction. No way I could compete with this.
This is now on my office door. So wonderful!
It's Homecoming weekend at Penn State, so you expect crowds and noise and odd behavior. But it's awfully early in the morning, and those don't sound like drunken moans.
Gunshots? Must be fireworks. Although it is raining…. Weird.
I wonder what's going on. I need to take the dog out shortly. Maybe I can find out more then. The dog doesn't like the rain, so it may be a little while.
Edit, 11am. We're far enough from downtown that I don't see any football celebrants as long I'm not foolish enough to try to leave the house. Usually. Homecoming must be extra exciting this year: I'm seeing a steady stream of drunken students shambling down my street. And it's a dead-end street, too.
According to twitter, some strange things are going on around the country.
I started writing this as a comment on my previous post, but thought it might almost be interesting enough to stand alone.
"Horn" originally started with my favorite opening line ever: "I saw a unicorn this morning."
Which is a true story. I did see a molting unicorn wandering through a cornfield along I-80 in Pennsylvania the morning I started plotting this tale.
Or it might have been a piece of rusting farm machinery, but where's the fun in that?
Someday I'll find the story that actually goes with that opening line, since this wasn't it.
Thanks for the congrats, everyone: much appreciated.
Candy-corn colored rocketship cookies, to be precise.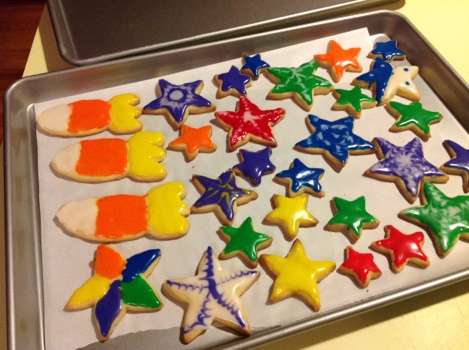 I made a stack of rocketships for Seanan McGuire, the GoH at Confluence last weekend, and a pile of stars and rockets for all the con attendees. Seanan squeeed, and she assures me the cookies were delicious.
In case you've somehow missed her, Seanan writes urban fantasy under her own name, puts out some excellent music, and is quite entertaining in person. She also publishes zombie stories as Mira Grant. She's part of the SF Squeecast, and she likes cookies. She's also up for four Hugos. I may have to make more rocketships for Worldcon.
The rest of my panels went well. It was just that evening panel where I was falling asleep that I did poorly on, and even that one I think the audience enjoyed. I'll take it as a learning experience.